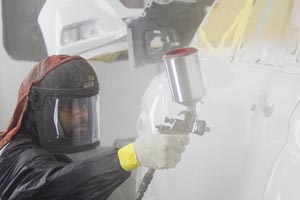 TAKE A LOOK AT OUR FACILITY
Gorman & Sons Collision has 12,000 square foot facility to handle any type of auto body repair work. All of our technicians go through on going I-Car training and certification. We have top notch estimators that use different computerized estimating systems to suit any and all insurance companies. Most estimates can be done in about 20 minutes and we can provide your insurance company a copy of the estimate through online estimating systems. We are available to work with any and all insurance companies through online estimating systems for accurate and faster service. Our downdraft booth is 32′ long to handle even those large trucks and SUV's to the smallest of cars. We mix all of our paint to factory specifications by using Sherwin-Williams Automotive Finishes computer systems. In 2011, we went green and converted over to Eco-Friendly water-based paint products and recycling paint waste. These products are better for the environment by lowering VOC Emissions and improving air quality without reducing the quality of paint. This is why Gorman & Sons Collision in partner with Sherwin-Williams carry a lifetime guarantee on all our repairs and paint work as long as you own the vehicle.
Sherwin-Williams Training Mission Statement
The Sherwin-Williams Automotive Finishes Team is committed to continuous improvement and the highest standards in proving customer service, technical training, and sales support for internal and external customers served by Sherwin-Williams Business Unit. We achieve this by creating and delivering continuously updated quality training programs for distributor and collision center customers, and associates, and other industry personnel thus insuring that these groups are provided with the latest industry information.