Gorman & sons collision center
"Over 25 years of collision repair industry experience"
Gorman & sons collision center
"In an emergency call 911 first. Gorman & Sons will handle everything else."
About Gorman & Sons Collision
Gorman and Son Collision Center, Inc. is a family owned and operated business since 2006. We are located in the heart of Sandston across from the Richmond International Airport. We strive on our customer service by putting you first and working on your behalf with your insurance company. We want your vehicle back to its pre loss condition making you and your insurance company satisfied. Our commitment is to guide you through this difficult time with ease. This website is to help make you informed of your rights in your repair decisions. Also, to give you the comfort in knowing Gorman & Sons Collision Center will be repair your vehicle in a safe and timely matter.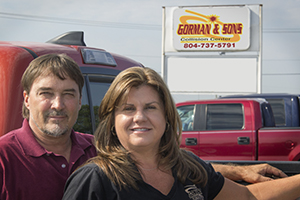 Awesome, awesome, awesome! The only reason I chose this shop to have repair work done on my truck after an accident was because of it's proximity to my mechanic and boy am I glad they're next door. Kyle helped me through the whole process from the walk around to payment. He was responsive, courteous, helpful, communicative, and did exactly what he said he would, when he said he would. Qualities like those are hard to find in a business these days and it was a pleasure working with them. My truck was complete ahead of schedule, everything repaired, replaced, and painted. They even cleaned and vacuumed the interior! The whole truck looks great and I will definitely be recommending them to everyone I know looking for body work.

I brought my 2016 Chevy Cruze in yesterday due to someone hitting me while parked and damaging my front bumper. I was told it would be ready by next week but to my surprise it was finished today (the day after) and the work is amazing. You can't even tell where i was hit. I will definitely recommend this place to anyone looking to uave their car repaired. Thanks guys 💪🏼

They have a great staff and do quality insurance work. This shop is conveniently located near the airport and they arranged a ride for me to catch my flight. while I was gone the repairs were completed and when I went to pick up my car it was flawless. you could never tell it had ever been wrecked. I'd recommend them to anyone.

I referred a very good friend who had a bad run in with a deer. The vehicle should have been a total loss but Barry and his staff had the vehicle towed from Gloucester and repaired it for him at an affordable price, and in a week!. He had one minor issue and Gorman and Sons stood behind all that they did and repaired a minor rattle at no charge while he waited. My friend was very pleased and will be back in the future.

I can't thank them enough for the great job they did and repairing my car after an accident! Sam answered my questions and even followed up on a couple of things to make sure I knew exactly what was going on through each step.